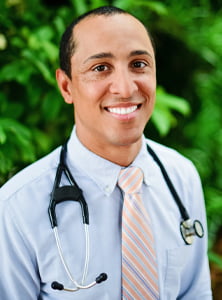 Dr. Jacob Vencil
DVM, Practice Owner
Read More
Dr. Vencil attended the University of Florida, where he was awarded a Bachelor's degree in Animal Science followed by a Doctorate degree in Veterinary Medicine. During his time in Gainesville Dr. Vencil met his wife, Jennifer. He was also there to celebrate four Gators NCAA Championships. You could say it was a pretty great eight years!
Dr. Vencil and Jennifer (also a veterinarian) returned to the coast of Northeast Florida where he worked for three years as veterinarian at a large 24-hour animal ER in Palm Coast. It was an opportunity that provided a tremendous amount of experience with complicated medical and surgical cases and state of the art equipment. Dr. Vencil was recently drawn to practice in St. Augustine by the beautiful beaches and fantastic community. In 2016 Dr. Vencil became the owner of Palencia Pet Clinic, taking over for Dr. Peter Veling who selected him to uphold the excellent medical standards he had established.
Though he enjoys all aspects of veterinary medicine, Dr. Vencil takes a special interest in surgery, dermatology and internal medicine. He looks forward to providing excellent care for your pets.
Dr. Vencil and Jennifer have three children: Harper (6), Jack (5), and Hallie (3). Their four-legged family members include Maggie (Labrador mix), Stitch (Boston Terrier mix), Reesie (Tortoiseshell cat), and Pounce (Tuxedo cat).
Dr. Matthew Young
DVM, Medical Director
Read More
Dr. Matthew Young graduated from the University Of Florida College Of Veterinary Medicine and began his veterinary career practicing at a large, state of the art, 365 day-a-year veterinary hospital located in Charlotte, North Carolina where he saw a variety of complex medical, surgical, and emergency cases.
Dr. Young has been practicing in St. Augustine since 2016 after relocating back to the area to be closer to family. While Dr. Young enjoys all aspects of veterinary medicine, he has special interests in ultrasonography, minimally invasive techniques/surgery, dentistry, pain management, and internal medicine.
Outside of veterinary medicine, Dr. Young is married to fellow veterinarian Dr. Sarah Franz. They share their lives with their two dogs, Charlie (their chihuahua rescue) and Beretta (their black Labrador Retriever), as well as their chickens. During his free time Dr. Young enjoys running, fishing, hiking, and traveling with his family.
Dr. Sarah Franz
DVM
Read More
Dr. Sarah Franz graduated from the University of Florida College of Veterinary Medicine in 2013. Since graduation, she has worked in progressive small animal practices and specialty emergency hospitals. She has extensive experience in surgery (routine and emergency), urgent and critical care medicine, ultrasound, and preventative medicine.
She also obtained her Master's in Public Health from the University of Florida with a focus in Epidemiology. She has authored many peer-reviewed research articles in a variety of journals. Upon graduation from Veterinary School, she received the Charlie Bild Clinical Proficiency Award which was in recognition for outstanding clinical proficiency.
Dr. Franz is married to fellow associate Dr. Matthew Young. They met at the University of Florida and have practiced at the same hospital throughout much of their careers. They thoroughly enjoy collaborating together and discussing cases even when it continues after hours at home over dinner! She has been practicing in St. Augustine/Jacksonville area for the last 5 years and is excited to join the Palencia Pet Clinic team.
She lives here in St. Augustine with Dr. Young, her son Everett and their two dogs Beretta and Charlie. She enjoys being active outside, boating, fishing, and traveling.
Dr. Raina Pannee (on leave)
DVM
Read More
"About 17 years ago, I adopted a little puppy that I named Delphi. She changed my life forever and was the catalyst for my career as a veterinarian. As a sick little puppy, we found ourselves at the vet hospital a lot. She was a lot of work but, caring for her sparked my love of veterinary medicine. The bond I shared with her was special but not unique, as most people love and care for their pets the same way I did. I am reminded every day to care for my patients as well as I cared for Delphi because I know just how important that bond can be. I absolutely love working with the Palencia Pet Clinic team. Everyone here is so caring to our patients and they are passionate about helping our clients."
Dr. Raina Graduated from Oklahoma State with honors in 2013. She practiced in Virginia and West Virginia for several years before moving to Florida. She currently has two rescued cats, Zombie and Bongo.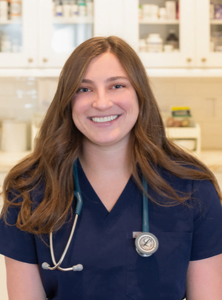 Dr. Olivia Valente
DVM
Read More
Dr. Olivia Valente is an east coast native who's dream of becoming a veterinarian has taken her far and wide. Originally from St. Mary's, Georgia, Dr. Valente attended The University of Georgia where she double majored in Animal Science and Biological Sciences. She then went on to receive her doctorate from St. George's University on the beautiful island of Grenada, with clinical training from Auburn University. Dr. Valente thoroughly enjoys serving the St. Augustine area and getting to know her patients and their families!
Outside the hospital, Dr. Valente spends her time with her fiancé Devin, and their two dogs Graham (a chocolate Labrador Retriever) and Luna (a yellow Labradoodle). Their favorite pastimes include trips to the beach, trying out local restaurants, and relaxing in their pool.
Dr. Michelle Logan
DVM
Read More
Dr. Michelle Logan is a 2014 LSU Vet School grad who recently moved to Florida from Kansas City, Missouri with her husband, 2 kids, and dog. Prior to Missouri, Dr. Logan practiced in Louisiana after graduation. In her spare time, she loves to hang out with her family, going to the beach, and exploring the great outdoors. She is looking forward to meeting you and your furry family members.
Nicholas B.
Operations Director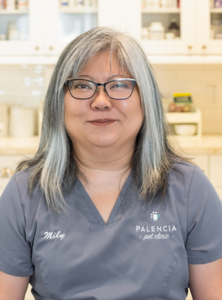 Milagros J.
Veterinary Nurse
Ashleigh A.
Veterinary Nurse
Hannah B.
Veterinary Nurse
Devin H.
Veterinary Nurse
Jena R.
Veterinary Nurse
Sarah D.
Veterinary Nurse
Olivia F.
Veterinary Nurse
Karli V.
Veterinary Nurse Laura N.
Veterinary Nurse
Lindsay H.
Veterinary Nurse
Ashley Smith
Receptionist
Amanda Jorenson
Receptionist
Jennifer Van Hook
Receptionist
Katie Watson
Receptionist